Why Use Multimedia??
Why Use Multimedia in the Classroom?
Multimedia activities encourage students to work in groups, express their knowledge in multiple ways, solve problems, revise their own work, and construct knowledge. The advantages of integrating multimedia in the classroom are many. Through participation in multimedia activities, students can learn:
* Real-world skills related to technology
* The value of teamwork
* Effective collaboration techniques
* The impact and importance of different media
* The challenges of communicating to different audiences
* How to present information in compelling ways
* Techniques for synthesizing and analyzing complex content
* The importance of research, planning, and organization skills
* The significance of presentation and speaking skills
* How to accept and provide constructive feedback
* How to express their ideas creatively
There are, however, some
constraints
to using multimedia in the classroom, including:
* Technological resources, both hardware and software
* Technological skills, for both the students and teacher
* Time required to plan, design, develop, and evaluate multimedia activities
Educators have many teaching tools to use in the classroom --
books, videos, paper, pencils, maps, and multimedia technology
.
Multimedia technology should simply be considered another tool in a teacher's toolbox, to be used whenever it can best serve to enhance the learning experience!
A good story keeps people listening or watching.
Check out these sites:
Catalogue of Multimedia Tips
- Heaps of Hints and Tips
SciFi
- Excellent Movie Files
Free Downloads
- Loads of PowerPoint resources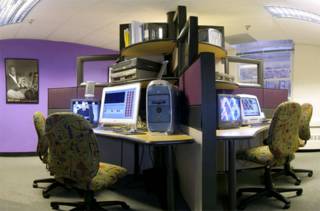 Ultimate Multimedia Workstation
Posted by Hello