Mobile Technology - iPAQ Pocket PC h2200
The
HP iPAQ(tm) Pocket PC h2200
series packs features, performance, and expandability into a sleek, elegant design that's surprising small and light. Powerful enough for solid work,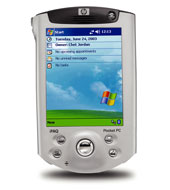 iPAQ h2200
Posted by Hello
This a great Pocket PC for individuals, mobile professionals and enterprise users.
You will find that its interface to Microsoft office tools allows you to
synchronize with just about any document
giving you all of your word, excel, PowerPoint, access and PDF documents at the tip of your fingers.
As well as a synchronization with all of your contacts and email, so you can write an email, or add a contact whilst out onsite, as opposed to having to write it on a piece of paper that you most possibly may lose, and when you arrive back into the office you can synchronize with your office pc and instantly have them in your contact list permanently. If you have a digital camera, you can store photos taken from your camera on to the pocket pc with ease to view them on a larger screen. This and many other features come standard with the pocket pc, and make them
the ultimate in transportability in data!
PS. The iPAQ is also a great entertainment device for music, video or as a universal remote controller.