Skype & SkypeOut! VoIP - Online Communication
I am investigating the new software online communication tool - Skype.
Skype Logo
Posted by Hello
Skype is free and simple software that will enable you to make free calls anywhere in the world.
Skype uses P2P (peer-to-peer) technology to connect you to other users - not to share files this time, but to talk with your peers. You can talk to up to 5 contacts at a time.
How do you think Telstra and Optus will respond to this?
Have a look at the download site -
www.skype.com
Anyone interested in trialling its use with CARHDS? Please let me now.
I recently held a 3 way conference easily and effectively using the program within our offices.
Skype gets the thumbs up in Central Australia!!
We would be able to exchange documents via email, surf the Web and chat simultaneously!
Talk about multi-skilled!
In relation to our client group - remote Indigenous participants - this tool could be an appropriate communication method.
It doesn't rely on Literacy levels where people feel "shame" to type into forums where their poor literacy is there for all to see.
AND
- people would be able to speak in their own language!
IT skills are still a basic requirement but I was impressed that as an alternative to the text version - a visual step by step installation guide is provided on the Net.
I needed to tweak my microphone settings before the audio was loud and clear.
Motivation. If a sound rapport is established prior to implementation and clients are well orientated to the technology - I am confident they would see the benefits of using this program.
I have suggested to my Flexible learning Leaders Special Interest Group - Remote and Rural - to utilise this communication tool.
August 2004
Skype has had an upgrade to Version 1 and now offers a powerful file transfer facility that allows you to send file up to 2GB in size.
Skype Interface
Posted by Hello
SkypeOut!
is a great feature that allows you to call almost any landline or mobile phone in the world via your PC.
You need to pre-pay (10, 25, 50 EU) and then you can immediately start dialing telephone numbers like you would do from your traditional phone.
SkypeOut! Is still in the development stage - tweaking and improving the service.
Skypes current focus is to make the best voice-application on the planet. But they will be adding many new and exciting features in the future and video-calling is high up on the wish list. I haven't had a chance (or $$) to test SkypeOut! BUT the file transfer function is great!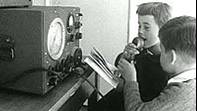 Ancient Voice Communications
Posted by Hello