Flexible - BLOGGING
Apparently blogs have been on the Web for years, but since I operate on "Territory time" it is not unusual that this technological information has not filtered my way to Alice Springs - until now.......
Blogs can take a multitude of forms, but are mostly personal or project-related websites that users update regularly with anecdotes of their activities, things that interest them and often with links to sites and the latest news.
I intend to use this form of public communication to express my Flexible Learning Leaders "journey".
At this stage I don't have any web server space to load any digital images so my site will be mainly text based. Oh no!
But - I will explore my ISP account to see if I can access this facility.
I hope you enjoy and value the information contained within this site and any feedback would be appreciated.
BLOG Interface - You are Looking at it!
Posted by Hello
BLOG UPDATE
Hi All!
I have mastered the art of blog creation!
To those who are interested - it is quite simple to niche your own part of cyberspace.
I will document HOW I managed to create mine.....
Blogspot is just one (of many) site that provide FREE services to have a "voice" on the Web.
Just register to create an account, choose a template and off you go!
You don't have to make all your postings "public" straight away.
You have the option to save as drafts, add, amend and publish when happy with the content.
If you want to be able to post images to your blog you have to download additional software - Hello - which you use through your Windows Explorer.
This program is also FREE!
Don't get confused and purchase the Picasa as it is not required.
It took a bit of fiddling around to trick the program into inserting jpegs into the correct location but I finally mastered the technique.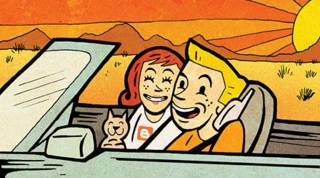 www.blogspot.com
Posted by Hello
I still have to work out how to extend the margins to look balanced and not all squished in the centre (secret source code business!) I'll get an IT guru to look at the goobbledook and find out HOW to do this! (I have since spoken with an IT friend and rectified this problem).....
In essence, this form of weblogging (with the post comments option) could address the issue of maintaining "corporate knowledge" or as a record of the Communities of Practice models. What do you think?